The Liberty Series is a three bed collection of premium all foam mattress, which like all of our products are 100% Made in the USA. The Atlantis is a 10" all foam mattress that features 2" of Serene™ comfort foam that will self-adjust to individual body contours. The Endeavor is a 12" all foam construction that has 2" of open cell Memory Foam which provides deep support with no motion transfer. The 12" all foam Enterprise is the top bed in the series combining both 2" Serene™ comfort foam and 2" Graphite Infused Memory foam to provide an over the top memory foam comfort level. All Liberty Series mattresses can be used on an adjustable base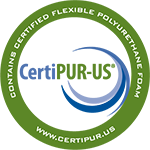 All Foam Construction
An all foam smooth top mattress with varying combinations of memory foam, gel and polyurethane.
All Foam

Symbol all foam mattresses are designed for optimal pressure point relief and back alignment support.

Gel

Carries heat away from the body and provides support and pressure relief.
Adjustable Base Compatible
Not all mattresses are created equal. This bed is compatible with a range of adjustable bases.